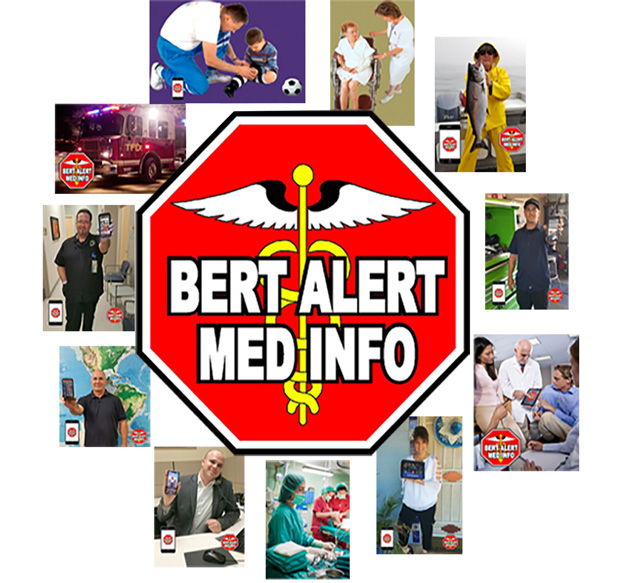 APP FEATURES
The Bert Alert Med Info App can be a lifesaver. It has major benefits for you and even your pets and you may also include family notes. Your med info is private and stored only on your mobile devices and not in a cloud. In an emergency your Bert Alert Med Info App may be accessed on your mobile devices by first responders or medical personnel. It is not dependent on cell towers or network connections and it is accessible anytime worldwide.
Having your pet's med info on your mobile devices is important. When they are sick or have an emergency a medical person or a veterinarian will have immediate access to that vital information stored on your mobile devices. You may access your med info for medical appointments or filling out questions on the clipboard at your doctor's office or for your veterinarian.
FEATURES for STUDENTS
Children and teenagers should have their own Bert Alert Med Info App on their own mobile devices to access in case of an emergency. Injuries can occur in schools, sports, automobiles or falling off skateboards or bicycles. It's prudent for parents to keep notes of their children's or grandchildren's meds or allergies on their mobile devices, along with the contact numbers of their friends, doctors, teachers and coaches, to access when needed.
YOUR MED INFO is ALWAYS ACCESSIBLE
Whether you're relaxing or working at home, hiking, walking, jogging, flying, cruising, sailing, traveling or camping on a mountain top, your med info, your pets and family notes are accessible on your mobile devices, without needing a network connection, anywhere and at anytime in the world.
The App market is cluttered with a sea of look-alike Apps. The Bert Alert Med Info App stands out with its octagon shape, gold staff, graceful wings, fire engine red background and bold white letters with black trim and it is easier to recognize and access on your mobile devices. Get the Bert Alert med Info App for your mobile devices at Google Play Store or Apple.
The Bert Alert Med Info App can be a LifeSaver
Your Med Info
Your medications, blood type, allergies, medical conditions, and emergency contacts are stored at your fingertips.
Your Family Notes
You can store Family notes securly for easy access in an emergency situation.
Your Data is Secure
Your Med info is private and stored only on your mobile devices and not in any Cloud.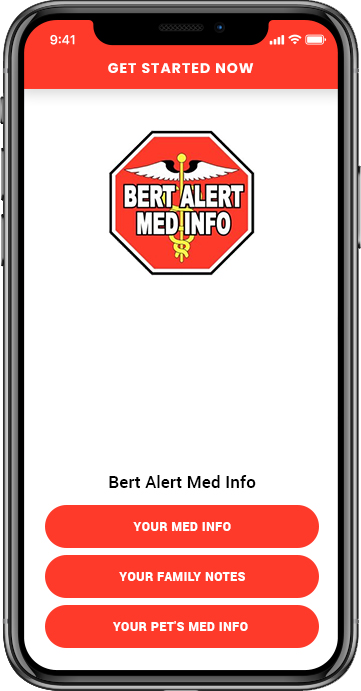 Your Pet's Info
When your pet is sick or has an emergency, a Veterinarian has immediate access to your pet's vital Med Info stored on your Mobile Device
Very Friendly App
Take confort knowing your Contacts, Personal Data, Doctors, Veterinarian and Med Info are easily accessible anytime Worldwide.
Download the App
Click the Links below and grab the Bert Alert Med Info App